Alright, I decided to take a break from homework and chose my Top Ten "Feel Good Films." These films will come off the top of my head, in random order:
-
Miss Pettigrew Lives for a Day
- I loved this movie. Amy Adams is adorable, as always. Lee Race, the tall stud from
Pushing Dais
ie
s
, is fantastic! It has a great message, and everything about it is surprisingly believable.
-
The Gods Must Be Crazy I & II
- Any one who has seen these won't question my choice. They are amusing, light, and an interesting social commentary, without being in your face.
-
Life is Beautiful
- Only this film could make a person walk away from the Holocaust seeing the sunshine.
-
Am
é
lie
- This French film must be seen edited. No matter what mood I am in, it cheers me right up. Audrey Tatou makes a perfect modern Audrey Hepburn.
-
Arsenic & Old Lace
- Although this film is about murdering old ladies, it is hilarious and light, thanks to the charm of Cary Grant.
-
Singin' in the Rain
- Singing, dancing, humor? What could be better? The title says it all.
-
Some Like It Hot
- My favorite of Marylin Monroe's, plus, it's got cross-dressers! Bonus!
-
Juno
- No "Feel Good" list could be complete without this film! Michael Cera and Ellen Page are perfect! Just perfect!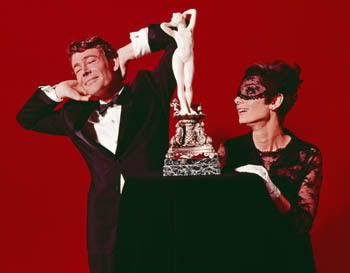 -
How to Steal a Million
- Audrey Hepburn + Peter O'Toole's eyes + art + crazy eyebrows = two hours of fun, charm and sunshine.
-
Better Off Dead
- Don't let the title fool you. This classic John Cusack is anything but dark. It's combination of ridiculous characters, awkward situations, and witty one liners makes one of the best films in all of history.